Game news Xbox: Shredders developer wants to play Amped 4 … or create it
Do you know Amped, this series of snowboard games developed by Microsoft (then 2K) whose first episode was released at the same time as the Xbox Original? Dirk Van Welden remembers him fondly. This extreme sports enthusiast who co-founded the FoamPunch studio released in March Shredders, a sliding game largely inspired by the title created by the American giant. During an interview, he told us about his passion for snowboarding games and Amped's influence in creating him.
A good dose of Amped in Shredders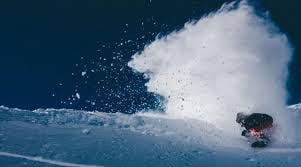 Whether it's in its balance of accessibility and simulation or its take on snowboarding gameplay, Shredders remembers Amped. The development studio, FoamPunch, teased this affiliation from playing on words in various social media posts. "I've always been a huge fanacknowledges Dirk Wan Welden, co-founder and CEO of FoamPunch, interviewed by us during a videoconference interview. This enthusiast of thrills in life and games has always enjoyed apps that try to find the right balance between realism and fun, like Skate. In his office he owns all the Xboxes and all the Snowboard games released on Microsoft consoles such as Transworld Snowboarding or SSX Tricky. "Yes, we took inspiration from Amped 1 and 2, especially with regards to the glide feel. And I think the guy who did the storytelling was a little bit influenced by Amped 3, which was more foolish" indicate.
"There could be an Amped 4 thanks to Shredders"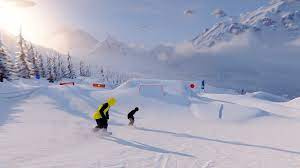 Snowboard games were once very successful and the big names in video games worked hard to impose franchises capable of spreading the genre. We remember Cool Boarders, 1080 ° Snowboarding or SSX. Today, it's mostly independent developers who keep these styles alive.niche". "We can simply take a greater risk on things that the general public doesn't show much interest in."says the creator of Shredders. He continues:"as an independent studio, you need to do better or completely different. We were sure there was no such specific snowboarding game. We were confident that we could have better physics and a better environment.". On the influence of independents on the video game industry, Dirk Van Welden insists that small studios can help the rebirth of specific genres. "Games like Session and Skater excel despite being from independent developers. We now know that Skate 4 is in production because they have seen the success of Skater XL and Session". In this case, is it possible that Microsoft is considering the return of its snowboard game following the arrival of titles of the same genre, produced by indies and appreciated by the target audience? FoamPunch CEO wants to believe it. "There could be an Amped 4 thanks to Shredders. I'm not sure of anything, but I hope there will be one, because I want to play it!"he exclaims.
An amplified by FoamPunch?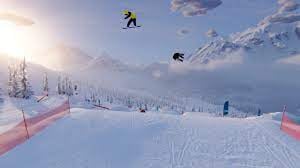 Rated 66/100 on Metacritic, Shredders has more or less mixed reviews. "We planned it because it's a niche stock. But if you look at our user base, such as snowboarders, the ratings are really good"Replies Dirk Van Welden. He adds: "people tell us they have waited 20 years since Amped played something like this. This type of feedback is great, it gives the team a push to work on additional content". After hearing about Amped all over the place, we asked the studio behind Shredders directly if they wanted to develop Amped 4, assuming Microsoft grants them the rights. "(laughs) is a very difficult questionLaughs the co-founder of FoamPunch. "For this kind of thing, I have to discuss it with the co-founder and the whole team. I know, it is a very strategic answer, I hope you will like it". Before concluding: "but yeah, that would be great". The message has arrived.
Shredders is available on Xbox Series X | S and PC consoles. It is included in the Game Pass.