Ninja turtles are part of my childhood. I grew up with cartoons, stickers and … video games of these friendly turtles. It betrays my age a little, but I have very fond memories of that time, especially progression fighting games (beat them). Several companies are currently pushing the nostalgia and memorabilia button and it can get a little boring at times. However, when Tribute Games announced that they were working on Teenage Mutant Ninja Turtles: Shredder's Revenge in an 80s-90s style, I was immediately intrigued by what the Montreal studio was going to create. From their past titles and the quality of these, I had high hopes that it would be a hit. Is this the case?
MUTANT TEENAGE NINJA TURTLES: SHREDDER'S REVENGE FACT SHEET
Release date : June 16, 2022
Style : Progressive fighting game (hit them)
ESRB / PEGI classification : E10 + / 12
Developer:

Tribute Games
Publisher: Dotemù
Operating language: Offered in English and French
Available On Nintendo Switch,

PS4, Xbox One

and pc
Tested on PS5 (PS4)
Price during the trial: € 29.99 / € 24.99
Official site
Version sent by the publisher
A return to the origins
As Teenage Mutant Ninja Turtles: Shredder's Revenge opens, we realize at first glance that Tribute Games wanted to please an entire generation raised with Ninja Turtles. In fact, there is everything: the credits, the music, the characters, put a little bit. I really felt like I was stepping back 25 years. This return to the past does not stop there. In fact, Shredder is back and tries to take control of New York by reviving Krang, his alien companion just like in the 1987 television series. Indeed, there are several parallels to the latter in the game.
Of course, our heroes Leonardo, Raphaël, Michelangelo and Donatello will try to foil the plans of Shredder and his Foot Clan, a group of masked ninja well known in the world of Ninja Turtles. Traveling through different parts of New York, the turtles will have to fight enemy troops following clues of Shredder's presence.
Classic but modern game mechanics
One of the things that intrigued me before trying TMNT: Shredder's Revenge was how Tribute Games would approach the controls in 2022., it would be unpleasant to play. However, it is quite the opposite! In fact they are fast, respond well and are very accurate.
Even though I felt like I had a current game in hand, it took me about 10 minutes to immerse myself in my childhood and basically resume the same techniques I was using at the time. Indeed, some moves are borrowed from old TMNTs, but others are entirely new. In particular, the special moves for each character.
An almost flawless technique
First off, the first element of Teenage Mutant Ninja Turtles: Shredder's Revenge that stands out is visually. Use pixel art (pixel art) to maintain the essence and aesthetics of 90s games and is simply sublime. Personally, I'm not a huge fan of games that take retro to the extreme. However, in this case, the graphics are natural, lively and just perfect. Unlike in the past, the rooms are full of different, varied colors and it is very refreshing.
Then, in terms of music, again, TMNT: Shredder's Revenge is impressive. The soundtrack is really excellent. In addition to the opening titles I mentioned earlier, there are several lyrics throughout the game and they are really captivating. Otherwise, without these pieces, the music in general is faithful to its origins while being varied and of high quality.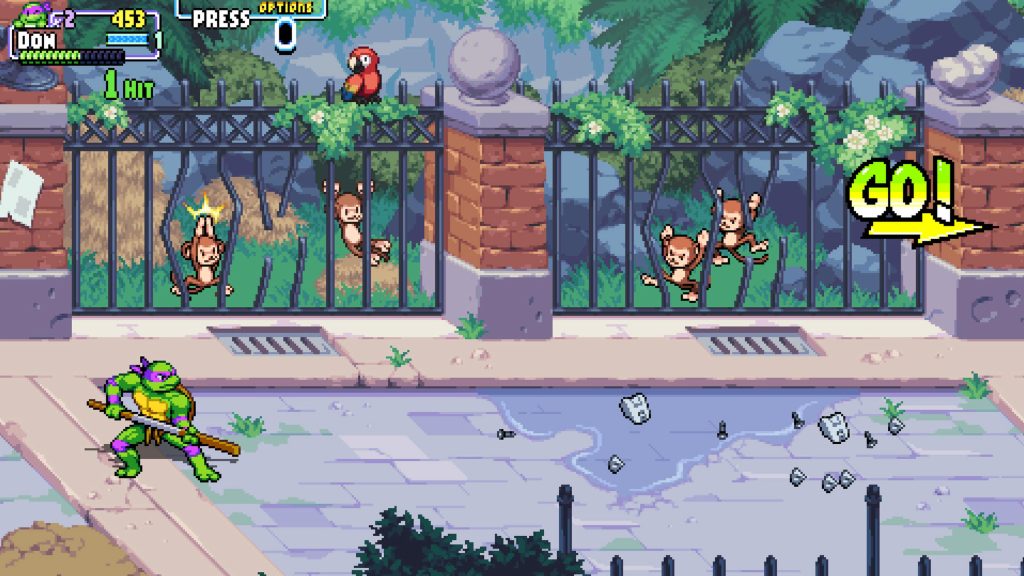 On the other hand, although I have praised the Teenage Mutant Ninja Turtles: Shredder's Revenge technique since the beginning of this section, one point has left me rather perplexed: the online multiplayer mode. In fact, at any time of the game it is possible to participate in a multiplayer game. Which is really nice and fast as it works, especially locally.
However, when doing the same thing online, there is a group concept to be respected. We have to create it with our friends and I have often had trouble connecting. Furthermore, the stability of the online game was not there at all. In fact, in one evening session, the game simply froze or even crashed twice in the middle of the game. It forced me to restart the game every time it didn't respond.
Good content but a little short
During my journey through TMNT: Shredder's Revenge, I felt like I was going through a cascade of levels. In fact, you can easily browse more than fifteen of them. However, they are quite short. On average, I'd say it took me 10 to 15 minutes to complete them. So if we do the math, completing the game from start to finish takes just over 3 hours. It's a bit short in my opinion.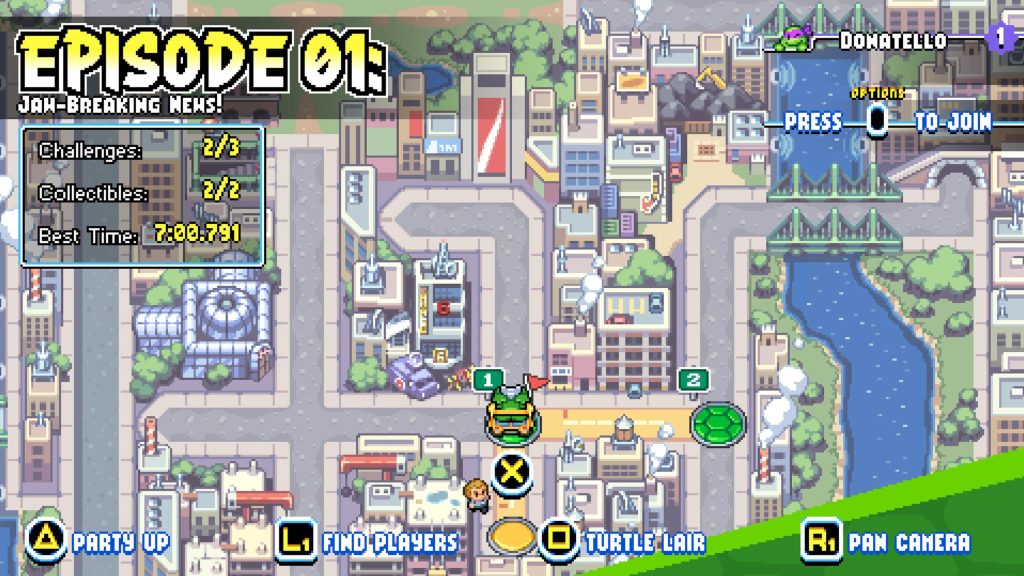 Also, by themselves, the 2 game modes are the same, but presented differently. Indeed, the story mode presents us with the levels in the form of a map of New York City in which save points are made at each completion of the level boss. Arcade mode, on the other hand, is presented as more difficult. However, it is a succession of the same tables but without a save point. So, to finish it, you need to book a longer game session, without stopping. Just like when I was young.
Teenage Mutant Ninja Turtles: Shredder's revenge verdict
Although I had several apprehensions before trying the new Tribute Games game, they quickly disappeared when I felt like I was back in childhood with this TMNT. Whether it's graphics, controls or music, we're back in the 90's. However, the quality of the production still brings this title into modernity.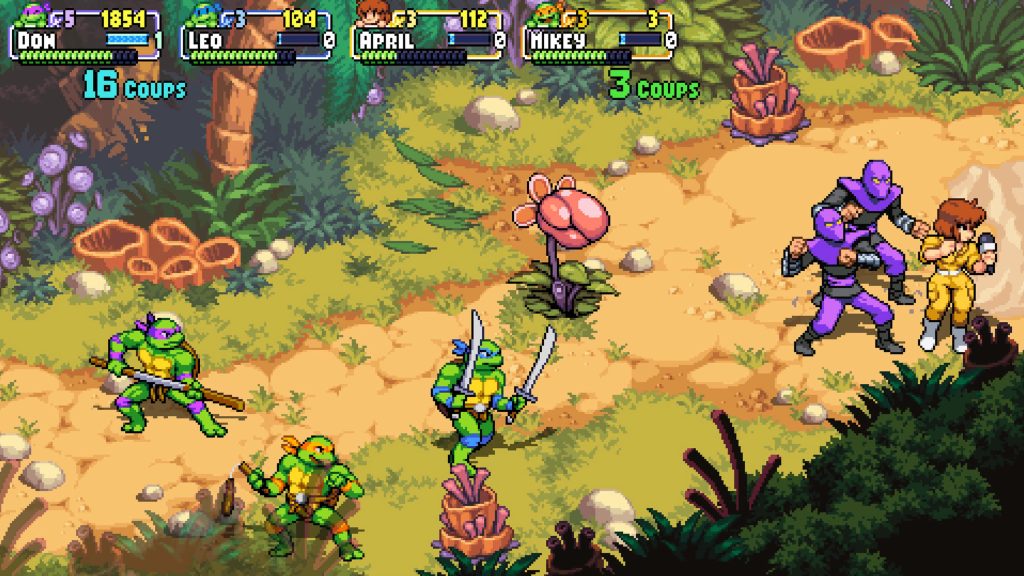 While Teenage Mutant Ninja Turtles: Shredder's Revenge isn't perfect, especially in terms of online multiplayer and amount of content, it's a great game. For the price, you won't be disappointed. Plus, it's a really great local multiplayer title where 4 to 6 players can play simultaneously (depending on the platform). The older ones will appreciate the nostalgic side present throughout the title. The youngest will find adorable heroes in a beat them of great quality.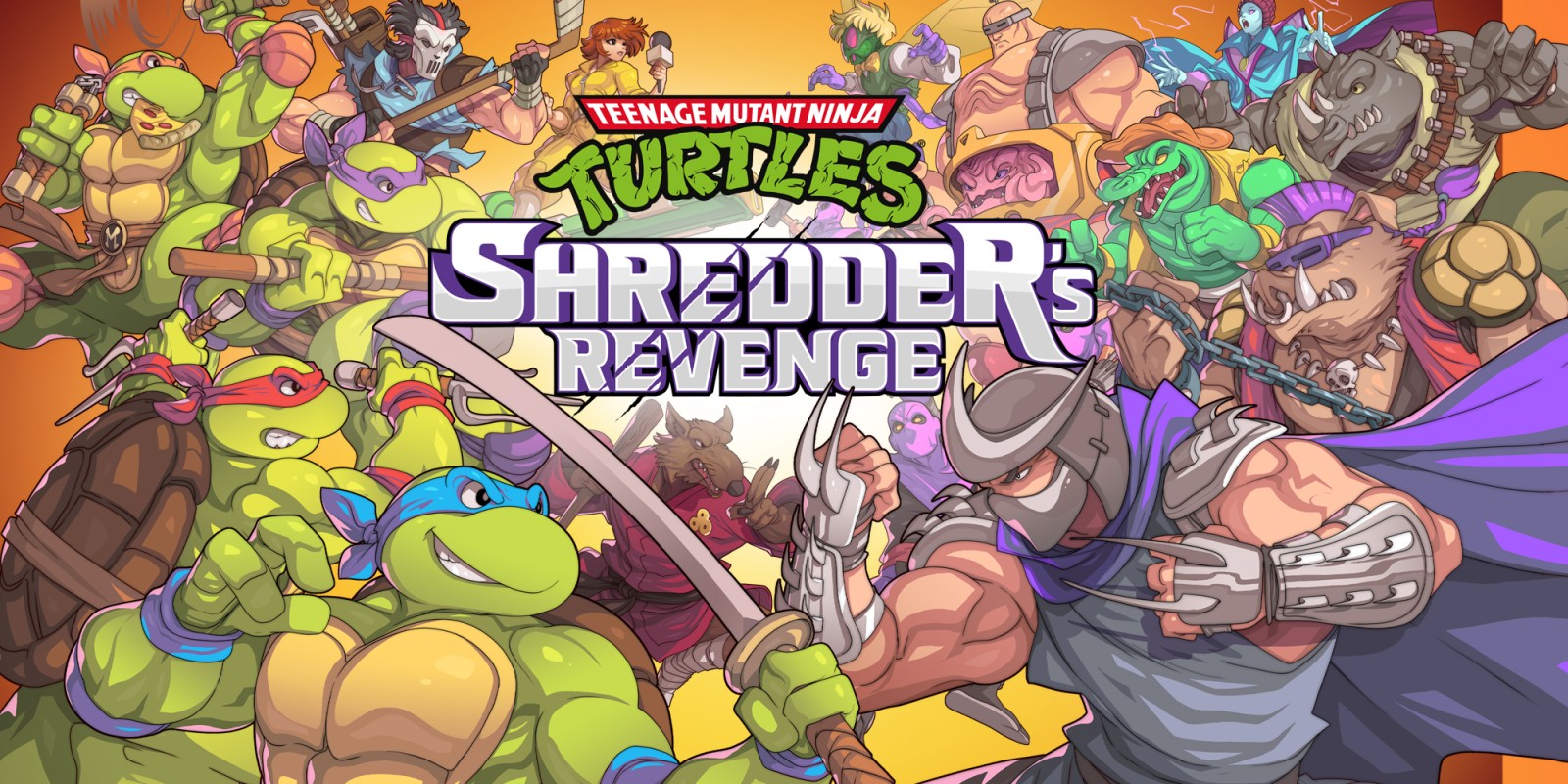 Teenage Mutant Ninja Turtles: Shredder's Revenge review – Nostalgia guaranteed!
Colorful and vibrant visual
Excellent soundtrack
High quality local multiplayer
An exceptional result in which nostalgia takes us back to our youth
Short contents
Technical problems with online multiplayer
It can be a bit redundant