Shortly after the adoption of cryptocurrencies as a means of payment, Tag Heuer still surprises us with a new NFT-compatible smartwatch.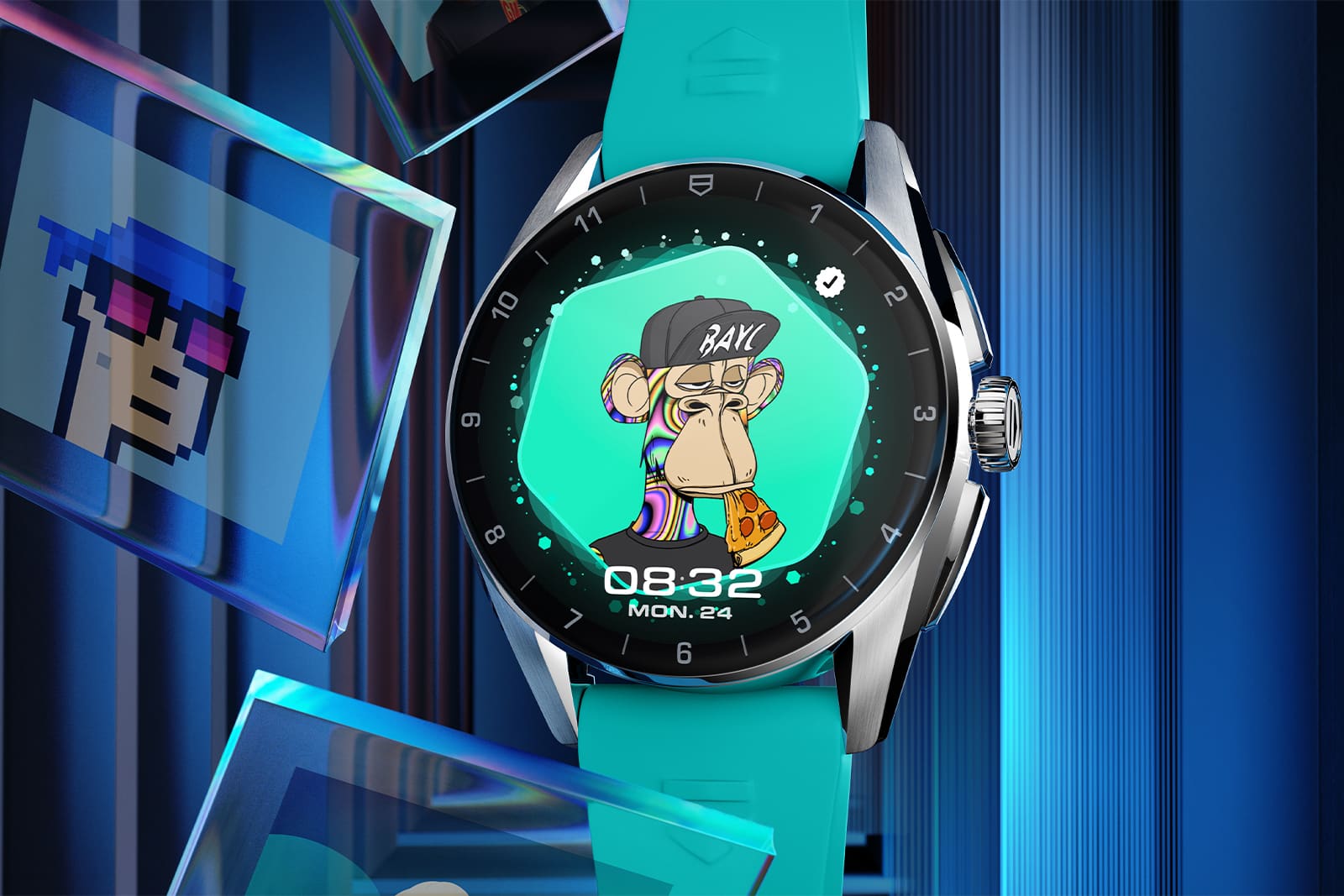 TAG Heuer in the era of Web 3.0
A few weeks ago we told you about the introduction of online cryptocurrency payments by Tah Heuer, for now only in the United States. You can then buy your own watches with 12 cryptocurrencies, including Dogecoin! Even if the bear market not the best time to sell your cryptocurrencies.
It was in this disclosure of Web 3.0 at Tag Heuer that the Swiss company decided to add a new feature to its smartwatch. In a press release, we learn that the "Tag Heuer Connected Caliber E4" feature now allows you to show your NFTs on your wrist.
" As an innovative and forward-thinking brand, TAG Heuer is here to help watch lovers stay in tune with our evolving world. We try to create unique and exclusive experiences that capture the spirit of the times. That's why, shortly after entering the cryptocurrency space in the United States, TAG Heuer took another bold step into the Web3 world. We are introducing an NFT viewer so that customers can showcase their collection of digital assets, with verified proof of ownership, on their TAG Heuer Connected watch. we can read the press release.
To determine how to best customize the look and function of the watch for NFT owners, the watchmaker says he has consulted with so-called "blue chip" NFT communities, such as Bored Ape Yacht Club, Cryptopunks, CLONE-X and World of Women.
" I have a keen interest in the NFT space and this feature is in line with TAG Heuer's tradition of avant-garde and technological innovation. Frédéric Arnault, CEO of TAG Heuer, said in a press release. " Watch this space, because TAG Heuer will have more stories to tell on Web3. "
Frédéric Arnault makes no secret of his enthusiasm for NFTs and even changed his profile picture on his Twitter account on May 24, after purchasing a BAYC.
Web 3.0 and luxury
Many companies are entering Web 3.0, whether it's creating fashion shows in the metaverse on Decentraland or simply accepting bitcoin payments at select Gucci stores.
Adoption is growing in the luxury sector, Tag Heuer shows us that it is possible to combine Swiss excellence and Web 3.0. In fact, companies are not obliged to radically transform by creating NFT products without intrasec value, but by adopting technology, arts and times can be mixed.
Having a Bored Ape or his favorite NFT on his wrist while having a watch designed and created by Swiss watchmakers is a way for the investor to bring the eras together. The fashion industry evolves with consumer tastes, even if some designers reject this change, it is a normal evolution and digital is becoming more and more present in our lives.
Tag Heuer therefore continues to surprise fans of Web 3.0, it is a strategy that will surely bear fruit in the next bull market when investors are looking for an expense that combines pleasure and interest.
Get a summary of news in the world of cryptocurrencies by subscribing to our new daily and weekly newsletter service so you don't miss any of the essential Cointribune!
Alessio Patin
Passionate about geopolitics, economics, cryptocurrency, Eurasia and travel! (as far east as possible), crypto-trader for 4 years.