Tribune of Tunisia (Samsung) – Samsung Electronics Co., Ltd, the world's leading television manufacturer for the 16th consecutive year, announces that Xbox will be available within the Samsung Gaming Hub. This new streaming game detection platform will be available on the Samsung 2022 Neo QLED 8K, Neo QLED 4K and QLED Smart TVs, as well as the 2022 Smart Monitor range. The Samsung Gaming Hub will therefore be the first platform in the world to integrate the Xbox app. . Thanks to this partnership, Samsung Gaming Hub users will be able to stream over 100 high-quality games, such as Halo Infinite and Forza Horizon 5, via the Xbox app, new games launched by Xbox Game Studios, and enjoy Bethesda's iconic franchises. Softworks and other publishers.
Based on the Tizen operating system, the Samsung Gaming Hub is a new platform for the discovery of streaming games that combines the best of the technical characteristics of the TV and its Smart features to offer gamers an optimal experience on Samsung Smart TVs. This gives players instant access to their favorite games, created by industry-leading partners. In addition to the Xbox app that provides access to over 100 games via Xbox Game Pass, gamers also enjoy an incredible gaming experience, characterized by low latency and stunning graphics, thanks to the advanced performance of Smart TV and Smart Monitor 2022. .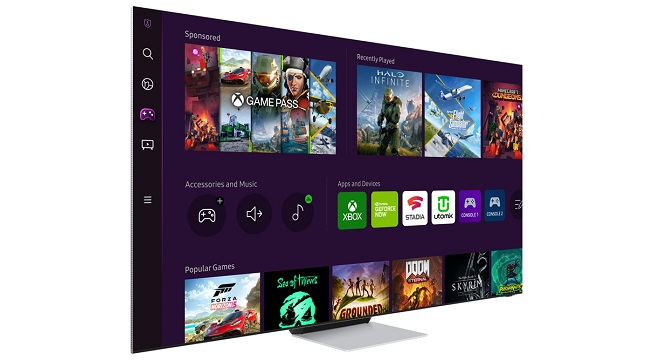 "Xbox is a key partner for Samsung. It shares our vision and desire to enable gamers around the world to enjoy the best streaming gaming experience at home, "said Won-Jin Lee, President and Director of Services for the corporate team, Samsung Electronics. strengthen our partnership with Xbox by integrating the Xbox app into Samsung's Gaming Hub. Owners of a Samsung Smart TV will now be able to access more than 100 games via Xbox Game Pass. They will be able to play their favorite games with equal ease and the convenience of watching live sports and streaming movies on Samsung Neo QLED and QLED. "
"Our mission is to enable everyone in the world to access the pleasures of the game and become part of the community of gamers. By bringing the Xbox app to Smart TVs, we are taking another step towards realizing our vision, said Phil Spencer, CEO of Microsoft Gaming. That's why we're thrilled to partner with Samsung, the world leader in TVs, to bring Xbox to more players. Partnering with Samsung has allowed us to provide better access to games and welcome new players to our community. "
Unveiled at CES 2022, the Samsung Gaming Hub builds on partnerships with leading game streaming services such as NVIDIA GeForce NOW and Google Stadia. With today's announcement, it becomes the only Smart TV platform to include the Xbox app. The Samsung Gaming Hub will be available in France from June 30 on Samsung Smart TVs 2022.
For more information: https://news.samsung.com/fr/application-xbox-samsung-gaming-hub
About Samsung Electronics Co., Ltd.
Samsung inspires the world and shapes the future with transformative ideas and technologies.
The company is redefining the worlds of TVs, smartphones, wearables, tablets, digital devices, network and memory systems, LSI systems, foundries and LED solutions.