MONTREAL – In a professional sports organization it is worth gold to be able to count on resources such as Byron Archambault and Brian Harelimana. Each in their own way, they brilliantly picked up the larger order that landed on their shoulders.
Shortly before the start of the training camp, Archambault was parachuted into the role of coordinator of the special units. This colossal last-minute addition completed his already busy tenure as linebacker coach and director of national scouting.
As Archambault had never coached special teams in CFL and his experience was limited in the Canadian league, some observers feared a disappointing performance.
However, the special teams have been a success since the beginning of the season. Sure, there was Chandler Worthy's electrifying performance at kickoff, but we must also point out the refreshing return of discipline in this group.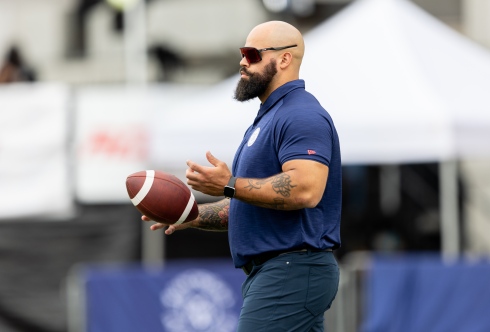 "We had to work hard and together. It's a bit of a cliché, a lot of people say it, but it's about doing it for real. Allows attention to detail and an emphasis on discipline. In the first game we did not receive penalties from the special teams. It excited me more than a touchdown or a blocked kick. You rarely see this and it means the guys have adhered to our approach and are attentive to details. Now, we need to build on this performance so that it is recurring for our team, "Archambault explained after taking off his hat and whistling at the end of practice.
The results of several players demonstrate its positive influence. Starting with Worthy who didn't mistreat the Saskatchewan Roughriders only thanks to his talent and his speed.
We like him a lot as a player, but we also really appreciate all the work he puts into his preparation. Sometimes you don't notice it and the other eleven players have done their job well alongside him, "said the former Carabin.
As a result, Archambault and the Alouettes coaches are left with a big problem. Mario Alford, who held the role before the injury, returned to training on Tuesday. But the first signs suggest that the executives will not change the winning recipe.
"We will not reveal all of our cards immediately. But it is obvious that he presented strong arguments, he demonstrated what he could achieve in the heat of the moment, "replied Archambault, who is happy with the competition that now exists for this position, which has too often been a weakness for the Alouettes.
Harelimana has already made a name for herself
But the true impact of Archambault is measured even more with the emergence of Brian Harelimana. Drafted in the fourth round (33rd pick) in 2020, Harelimana was not regularly mentioned as a possible candidate for a starting linebacker position in the CFL.
However, Harelimana smoked on her first start replacing none other than Chris Ackie.
"He is an extremely brilliant player, it is equivalent to having a defensive coordinator on the pitch. Ai Carabin did the same thing. He is able to announce matches, make changes, come back with feedback on the bench and paint you an exact portrait of what is happening on the pitch, "boasted Archambault, who was his coach with the Blues.
"Yes, we have tablets and we can see certain things, but he is able to explain everything to you from A to Z. He is a reassuring presence on the pitch, he can calm young people," added Archambault speaking. of an athlete who takes his first steps as a starter.
Over the years, Archambault has come to realize Harelimana's fascinating ability to read the game.
"Football is going a bit slow for him. He is then able to adapt during the sequence based on what happens. He doesn't get lost on the ground like a headless chicken. These are things that allow him to perform as great as this, "said the former linebacker.
His two-sack performance – as well as coming close to an interception – was impressive.
"He has his place in this field, at the CFL level, and he has shown it in this match. As his former manager, I am extremely proud of him. He lived up to it and puts his name on him map through the CFL, "Archambault said.
"When a player like Ackie falls, you don't see a big drop in performance. Indeed, if there is one to be more precise », he continued.
To some extent, it is assumed that it surprised some specialists with the quality of its game when it first started.
"No, I wasn't surprised at all," Jones said. I liked him from the start, he was very active in training last season and you could see his potential in him. He is simply a very intelligent player, he sees very well what is happening on the pitch. He knows football! Some players manage to get by with athletic qualities. Brian is also a good athlete, but he can read the game and that helps Barron Miles' defensive system a lot. "
Archambault is very happy for his pupil who had the intelligence to learn the nuances between the positions of linebacker on the short side and linebacker on the wide side.
When you ask Archambault if he recognizes himself a little in Harelimana, in the sense that he also played as a linebacker and that they both have good football "heads", he hurries to answer.
"He moves better than me and has a better football head. He is much smarter than me on the pitch. For the similarities, I don't know, he is better than me, period ", she concluded, humbly, smiling.