By Saidata Sesay
BBC World Service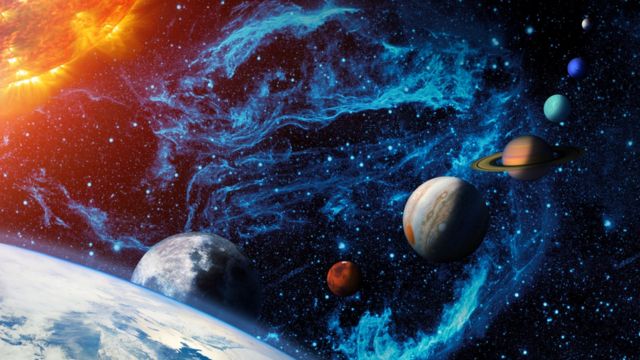 The month of June offers star watchers a rare opportunity to observe a celestial delight: five planets and the Moon line up.
From the Northern Hemisphere, Mercury, Venus, the Moon, Mars, Jupiter and Saturn will be visible in a pre-dawn parade, forming a curved line.
The most perfect training will take place from 23 to 24 June.
To read in particular on BBC Africa:
This alignment is called the celestial conjunction and can be observed with the naked eye. The last time the phenomenon occurred was in 2004.
From the southern hemisphere, Mercury and Venus are visible in the morning, with the Adebaran star in the middle.
Aldebaran – which in Arabic means "the follower" – is one of the 15 brightest stars we can see from our planet. It has a diameter of 44 times that of the Sun and projects a reddish hue.
Celestial conjunction
If you stay up all night looking at the stars, you will see Saturn first. He will appear in the middle of the night.
For a few hours before sunrise, Jupiter and then Mars will be visible. Venus will appear at dawn, followed by Mercury at dawn.
Below we explain how to recognize each planet you will see.
Astrology
Astrologers believe this alignment is significant.
Some believe that planetary conjunctions are related to a huge shift in energy, which shifts humanity from a place of war to a calmer point of peace and harmony.
It would mean that the evils that plague the human race could finally be replaced with love, acceptance and cooperation.
What can you see?
Saturn
This year Saturn will be particularly visible on autumn evenings.
But right now he gets up before midnight local time.
To the naked eye, Saturn appears as a bright yellow-white star.
But using a small telescope, you will be able to see the planet's famous rings, which now seem to get smaller. They extend north and south of the planet.
At dawn, Saturn is easily visible in the sky from the southeast or south to southeast.
March
Mars is a morning planet, which becomes easier to observe in June.
It rises in the eastern and southeastern skies just before 2:00 local time and shines with a brightness similar to that of Achernar, the ninth brightest star visible from Earth.
You will see the yellow-orange hue of Mars.
Our crescent moon will pass to Mars on June 22-23, completing all 6 aligned celestial bodies.
Jupiter
Many of us already recognize Jupiter in the early morning sky. It shines more than twice as bright as Sirius, the brightest star we can see from Earth.
Using a telescope or binoculars, the western side of the planet appears slightly darker than its eastern side in June.
From 22 June it will be even easier to see and will enter the constellation of Cetus ("the whale") on 25 June.
Venus
Venus rises at dawn and is brighter than Jupiter. It will be easier to see 30 minutes before sunrise on June 30th.
Binoculars or a telescope will allow you to see the Pleiades star cluster 9 degrees to the left of Venus before the morning twilight gets too bright.
Mercury
Mercury is also easier to see 30 minutes before sunrise on June 30 and will be the lowest planet on the horizon.
In early June it was too distant and dim to be seen in the dawn sky.
Since June 16 it is faintly visible to the naked eye far down in the east or north-east, about 30 minutes before sunrise.
You can see it in the lower left of Venus.
On June 27, Mercury rises above the northeast horizon just over an hour before the Sun.