News hardware Android: Here are the infected applications you shouldn't install on your smartphone
In its June report on mobile threats, security specialist Dr.Web highlighted more than a dozen malicious apps that are best removed from your device if you have them on your device.
Despite the important cleaning carried out by Google inside the Play Store in recent months, it seems soAndroid is still a malware-rich mobile platform. Dr.Web Security Editor just released his report related to virus activity on mobile devices in May: it seems that many Trojans (Trojans) are not only very active, but are hiding in always available applications within the official Google app marketplace.
Adware and theft of personal data in the firmament
The trending malware list is quite significant. We find in particular the Trojan horse Android. Hidden Adswhich constantly broadcasts advertisements on the device screen, Subscription.Android registering you for payment for mobile services without your knowledge or Android.PWS.Facebookwhich targets social network users to steal their passwords. Android.Spy.4498 is, meanwhile, a trojan that recovers personal data relating to applications installed on the smartphone.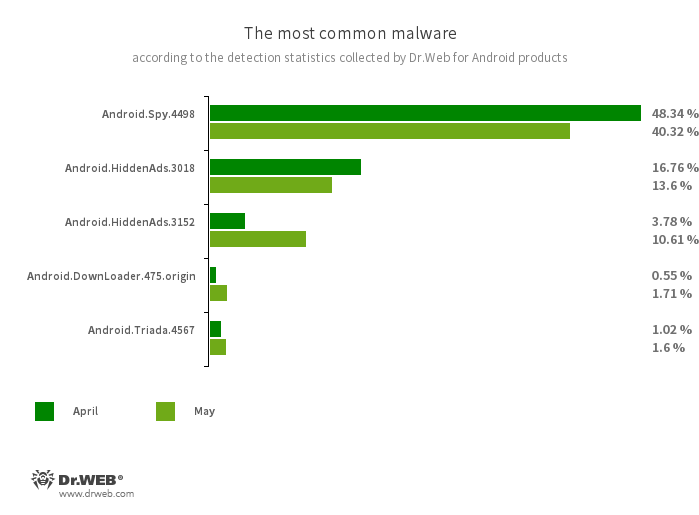 Some of these threats have seen a decline in activity in recent months, after climbing very high. But others are increasing. Unsolicited advertising is particularly on the rise.
Poisonous applications, accessible to all
In many cases, malware-infected apps are distributed outside the Play Store, in the form ofan APK file that users upload to a third-party platform. This can be explained in several ways: for example, the desire not to pay for a paid application, to access content indirectly or to a proposal that is often too good to be true. For example, the app Fan App Only For Android Fans Only proposes to provide free access to OnlyFans accounts that are normally paid. This app actually hides the Android.FakeApp.951 trojan and gives you access to nothing but trouble.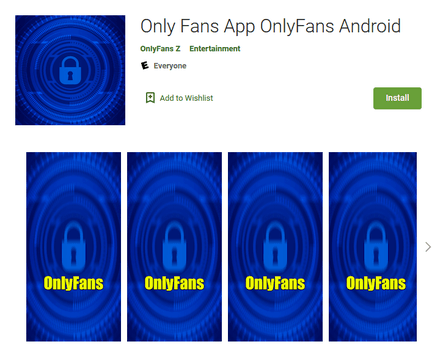 However, some virus-contaminated apps are still present in the Google Play Store catalog. We imagine that after such revelations this will not be the case for a long time, but Dr.Web warns against the following apps:
Wild and exotic animals background
Flashlight with magnifying glass
PIP Pic Camera Photo Editor
PIP camera 2022
Camera photo editor
Light exposure photo editor
Zodi Horoscope – Find luck
Recovery
Driving a real race
These are little known applications, but looking for free alternatives to paid services, especially on the photography side, you can come across these among the tips.
Dr.Web recommends installing a mobile antivirus to avoid falling into the trap of infected applications. But this is not necessarily necessary: the important thing is to use common sense and don't believe all the beautiful promises that apps totally unknown to the battalion can make.