Baris ERKAYA
Things get complicated as the details of the BRSA's foreign currency monetary asset limit imposed on TL loans under the direction of the Treasury Department and its reflections on corporations are worked out. In the analysis we did today after the decision, we analyzed that only 65 of the companies listed on the Istanbul stock exchange (with independent review) have foreign currency monetary assets in excess of 10 percent of their active or net sales over the past 12 months.
31 EXCHANGE COMPANIES BRING CREDIT RISK
On the other hand, 21 of these companies benefited from the exemption clause as their net foreign currency position was negative and only 44 companies were excluded from the exemption. Now, when we dig a little deeper, we have analyzed how many of these companies have bank loans with repayment in 2022. Thirteen out of 44 companies currently do not have a short-term bank loan to close by 2022. In other words, there are only 31 companies that could be affected by this situation. That is, if these companies have not changed this situation since March 31, 2022.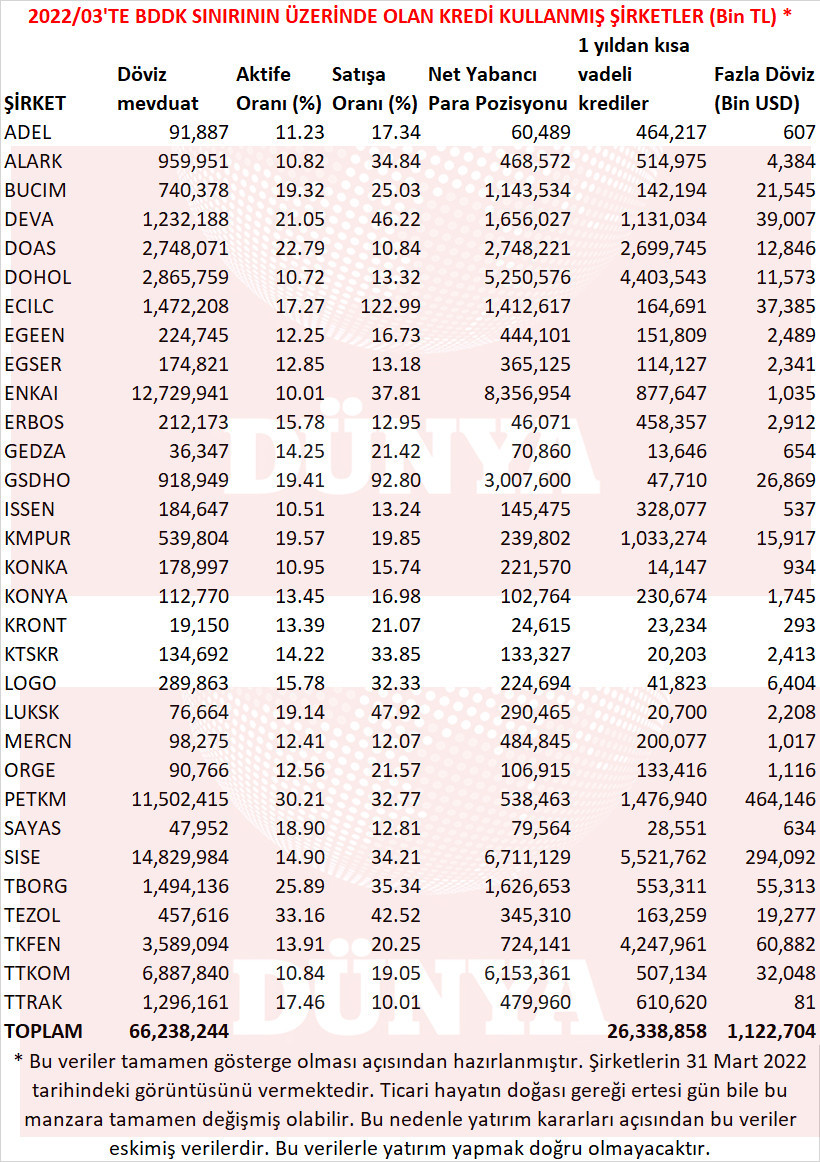 31 EXCESS EXCHANGE OF BUSINESSES 1.1 BILLION DOLLARS
Well, let's say all 31 companies want to roll over their bank loan this year. The foreign currency monetary assets that these companies must have to roll over their loans (if they want to enter within the limits set by the BRSA) are around $ 1.1 billion. So how can companies reduce this foreign currency asset? As Karsan, one of the listed companies, stated in his statement, the possibilities are actually clear:
1- If it supplies imported raw materials, it can make a prepayment of the commercial debt and ask the supplier for a discount on the prepayment. This means lower raw material or commercial procurement costs.
2- Can be exchanged for Safe Deposit in currency. Considering the recent drop in the ki dollar exchange rate and the current level of TL interest rates, KKM has again created a serious margin.
3- You can purchase medium and long-term Eurobonds
4- It can sell the part of the foreign currency it has enough to enter the borders of the BRSA.
THE CREDIT RISK OF THE SAME COMPANIES IS 1.6 BILLION DOLLARS
Well, let's say these companies didn't want to sell their foreign currency. In this case we come to the real big problem, that listed companies actually represent a small fraction of companies in commercial life, there could be a very serious loss of credit for banks.
Because while the foreign exchange surplus of 31 companies listed outside the BRSA is $ 1.1 billion, the size of TL-based bank loans that the same companies need to roll over this year alone is $ 26.3 billion. by TL. In other words, if we calculate it with the same dollar exchange rate for comparison, it is $ 1.6 billion.
In other words, with a simple calculation, after BRSA settlement, every $ 1 of monetary asset denominated in foreign currencies creates a business credit crunch risk of $ 1.45. This is a point where we need to look at how it will turn out in terms of bank balance sheets.