The cost of living and economic hardships in Turkey have increased the use of credit cards. There is more than one credit card per citizen.
According to data from the Interbank Card Center (BKM); Starting March 2022, in Turkey 88 million credit cards, 153.9 million debit cards and 59.6 million prepaid cards are used. Compared to the first three months of 2021, the number of cards has increased by almost 10 million.
The decision made by the Banking Supervisory and Regulatory Agency (BDDK) on credit card payments last week made people who live on credit cards or actively use credit cards think. The BRSA has decided that 20% of the minimum term debt payment amount should be paid for credit cards with a limit of less than 25,000 TL and 40% of the minimum term debt payment amount for credit cards with a limit of more than 25 thousand lire.
According to economists, the institute's goal is to prevent the excessive accumulation of debt on credit cards and to direct citizens to spend in this way more consciously.
So what do credit card users think in this case? Does the new payment legislation imply a change in credit card usage habits? There are people who reduce the credit card limit, what do they think of the new application of the BRSA?
REDUCE THE 10 TL LIMIT TO PAY 20 PERCENTAGE
Living in Istanbul and working as a purchasing manager in a private company, Dilara Başören (30) has been using a credit card since she was 18. Claiming to have 3 credit cards at the moment, Başören said: "On the morning of the news, I reduced my card limit, which was over 25,000 TL, to 24,000 990 TL. Who has more than one card. will certainly have a discount, otherwise it will be difficult to pay. "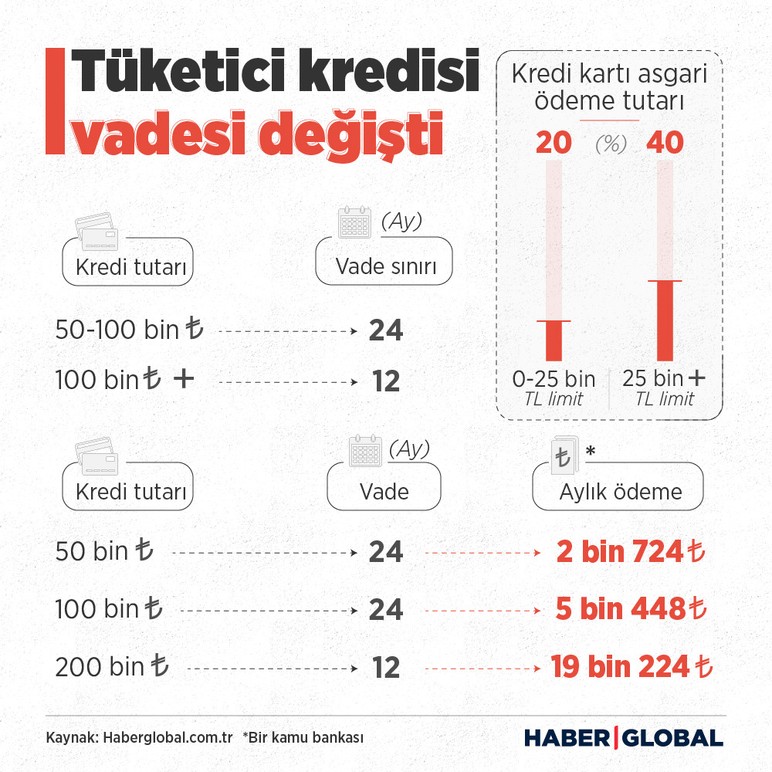 Cemil Baştan, who works as an accountant in a private company, says he used his credit card to buy assets because he was about to get married. From the start, "I'm getting married in November, That's why I bought 1-2 appliances by increasing my credit card limit. My limit was 30,000 TL. The cost of living is in the middle, we are standing on the credit cards. Now I have to pay 40 percent of that month's debt, "he says. From the start he says that after the installment he will pay this month, he will reduce his limit to less than 25,000 TL.
Claiming that the implementation of the BRSA will make people in need worse, A.Ş. He said: "I reduced my minimum payout amount so that it wasn't 40 percent. My limit was exactly 25K TL. If I had reduced 100TL, I would have paid 20 percent of the minimum payout. That's why the I reduced to 20 thousand. I often don't have money up front. I also have some debt right now. Since I started using my credit card, I have never been able to pay off my debt. If I can pay 40 percent of the debt, I'll pay the full amount, "she said.
Lowering the credit card limit, CB said: "I can say I live on a credit card. I pay the minimum debt every month. The bank limit was 30,000 TL last year. I started spending a lot of money. more".
With the new regulation, CB, whose card limit exceeds 25,000 TL, is also among those who have reduced the card limit. CB said: "If I already had money, I'd like to pay the full amount. That's why I called the bank on the morning of the deal and reduced my credit card limit to the 20,000 TL that I owe. I'll pay and use it again. "
Aydın Şavur, who works in a private company in Istanbul, has a credit card limit of 18,000 TL. Stating that he is thinking of increasing his limit, but that it will not exceed 25,000 TL for this, Şavur said: "I was thinking of increasing the limit of my current card. However, after the question, I will be careful not to exceed the limit of 25 thousand TL. Because for the card I can only pay the minimum or closed amount of each month, there is a 40 percent commission. The payment forces me financially, "he said.
cihat.aslan@haberglobal.com.tr
Source: Web Special
.