Mustafa Kemal COLAK
Turkish Airlines Board of Directors and Executive Committee Chairman Prof. Dr. Ahmet Bolat said: "We will continue to grow THY, Turkey's leading brand, together. We have a double-digit growth target this year. In 2023, our growth will be double-digit, "he said.
Noting that they are pursuing an important strategy for THY's subsidiaries, Ahmet Bolat said they are planning to gather each of them under the roof of an independent company. Bolat said: "We are working on the incorporation. The incorporation of Anadolu Jet is much more feasible, much more logical. In this regard, if we intend to set up a company, the first company we will establish will be the incorporation of Anadolu Jet. We follow him in all our strategies. We are changing the AnadoluJet booking system. We can use a national reservation system. As a company, we will separate it from TK. Sales and marketing will be separate, "he said.
Our affiliates will also be all over the world
Ahmet Bolat said one of his focal points during his presidency was to increase the profits of its subsidiaries. Noting that their subsidiaries 'share in last year's $ 1.4 billion profit is about $ 130 million, Bolat said, "My goal is for our subsidiaries' profit to reach half of the company's profit. our parent company. Turkish Technic, it is important that Turkish Ground Services is a global company. Do & Co has already started happening. As our companies grow around the world, we will halve their share of profits. This will be one of our most important signatures. For example, in this context, we are combining our cabin, seat and entertainment company under one roof ".
The phases of sustainability are accelerating
Explaining that they made arrangements in the kits distributed to passengers on the plane in order to reduce the use of plastic, Ahmet Bolat said they did a research and found that the shoe shooter and combs in the kits they distributed to passengers were not used. . Bolat said: "We are working on the model of having disposable brushes in the sink. In line with our sustainability goals, our goal is to reduce plastic consumption rather than financial savings ".
The longest flight line will be Sydney
Making a statement for the opening of the Seattle line, THY's 12th flight destination in the United States, Ahmet Bolat said: "We are continuing work on our new line in Asia, as well as the Detroit, Denver and Orlando in the US. "Stating that THY receives flight offers from all over the world, Bolat said:" We are a fast, dynamic and productive organization. We receive a lot of offers. We are working to include, for example, Sydney as a new destination. Our friends are continuing the preparations and negotiations to fly directly to this line, which is closely related to the purchase of new aircraft and will guarantee approximately 17 hours of flight time.
We want to serve our expats and we see serious tourism potential from there, "he said.
Ahmet Bolat, who is also president of the Association of Service Exporters, said that $ 55 billion of Turkey's total exports, or $ 225 billion, come from the service sectors and said: "We are planning to increase changes arriving in Turkey. Last year, exports of services amounted to $ 55 billion. Last year, like THY, our contribution to this export figure was $ 8 billion. We have brought 8 billion dollars to Turkey. This year, as a Union, we will find $ 80 billion. Like THY, our contribution will also increase, "he said.
Citing the Mesopotamia Peace Valley project they will launch for Northern European countries, Bolat said they aim to activate the tourism potential of the Southeast Anatolian region.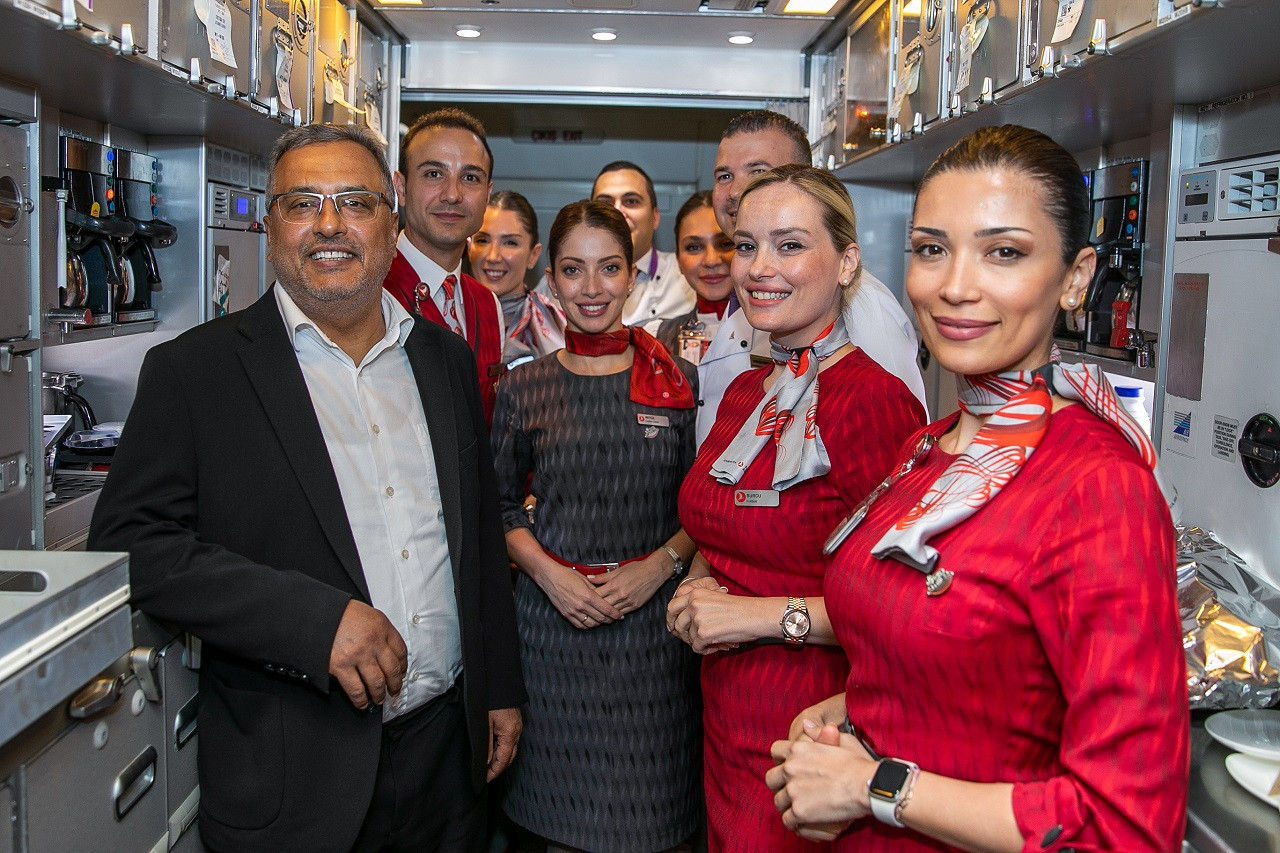 Seattle becomes the first destination in the Pacific Northwest
Turkish Airlines' twelfth destination in the United States is Seattle. Seattle, located in the US state of Washington and one of the top 10 richest cities in the country, will further improve the performance of the flag carrier in the United States.
Seattle, which is the center of major tech companies, most notably Microsoft, is also home to global giants such as Boeing. It is claimed that the Seattle Airport Administration, one of the world's most important aviation centers, has been trying to attract THY for 6 years. Following THY's trip with the delegation last week, an important ceremony was held at Seattle Airport.
Speaking at the Seattle flight promotional event, Turkish Airlines Board of Directors and Executive Committee Chairman Prof. Dr. Ahmet Bolat said, "America is an important market for us. When we look back over the past 15 years, we are proud to have achieved remarkable growth here as well, as part of our vast network of flights spanning the globe. "As we actively continue to expand our presence in the United States and our global reach, we are delighted to launch a flight to Seattle, our first destination in the Pacific Northwest." Seattle is held 4 days a week, Monday, Wednesday, Friday and Sunday.
Will recruit in other units with pilot and cabin crew
Turkish Airlines employs 12,113 cabins and 5,643 pilots. THY, which has not been recruited for a job in the past two years, continues to rapidly create employment this year. Ahmet Bolat stresses the need for pilots and cabin crews to respond to new line requests. Noting that he has worked for THY for 17 years and that he has come from within, Bolat drew attention to the need for pilots for THY, which flies to 340 destinations in 129 countries with its 377 aircraft. Bolat explained that in the next three years there will be a huge need for pilots in Turkey and around the world. Bolat said: "The number of hours of use of a pilot in a year is fixed, this does not change. We are currently looking for a pilot. We are training the pilots ourselves and are considering increasing the capacity. We currently have 400 foreign pilots. if 400 national pilots arrive we will catch them all. "Bolat recently issued a statement to DÜNYA regarding the new job:" The pilot we will hire is over 200, but it seems difficult to find the type we want and ready to fly. "We are recruiting about 1,000 toilets and about 100 other departments, "he says." At the beginning of 2022, we increased our salaries by 85%. We also make improvements above the inflation rate every 6 months, "Bolat said, adding:" Our motto will focus on investment and employees as the company wins. We support our decision to distribute 10 percent of year-end profit to the employee. "