The new fraud network managed to amaze everyone by stealing the 8,000-lira catalyst of the clean used vehicles they had imagined on the second-hand shop in Ankara and replacing it with 100-lire sub-industry products. As a result, the new emerging network enters the used-to-buy website first and filters the prices of the brand and model vehicles they previously determined from high to low. Then, the scammers call the owners of the first 10 vehicles one by one and say that they like the vehicle, that they are serious buyers and that they want to meet. Meet the owner of the vehicle at an auto industry site in Etimesgut, at a biker they have previously determined.
THEFT TO THE LIGHT WITH SORRY OF THE TEST DRIVE
A member of the network spends time here chatting and offering treats to keep the owner busy. Meanwhile, another member of the network takes the vehicle to the vacuum, who is aware of the situation, under the pretext of wanting to take the vehicle for a test drive. Here, in 7 minutes, the extractor removes the "catalyst" part, which holds the second hand between 8 thousand and 10 thousand lire in model cars of 2000, and instead welds a 100 lire sub-industry product. Next, the scammers point out that they are serious buyers with the vehicle owner, and after negotiating and saying goodbye, they promise the vehicle owner to meet at the notary for the sale the next day. The next day they leave the business with the excuse of "My grandmother is dead, I have to go out of town" to the car owner, who calls the sales.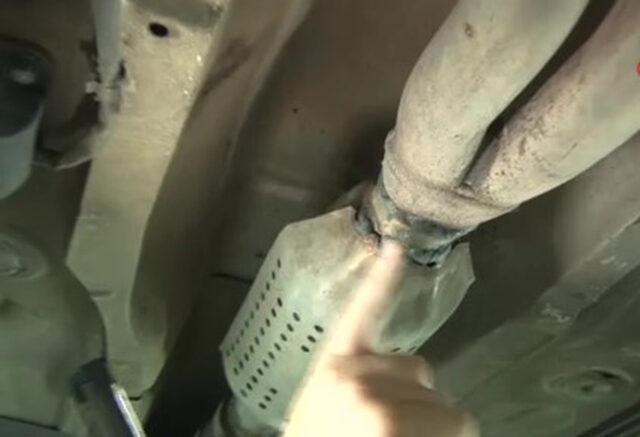 "6 VEHICLES WITH CATALYST REMOVED ARRIVE IN ONE DAY"
Evaluating the aforementioned fraud, which has been rife in Ankara over the past two weeks, automotive expertise specialist Ahmet Coşkun Özata said this fraud has escalated in the past two weeks and has received 6 vehicles with the catalyst removed in just one day. The common message from victim lawyer Atılgan Doğan, 66-year-old Salih Doğan and expert Özata was that citizens should not leave their vehicles for a second, whether they are buying or selling them.
"We shook hands, we couldn't save our arm"
Atılgan Doğan, a lawyer for 10 years who was one of the victims of the fraud network in question, said one person called a week after posting the 2000 German brand vehicle model on the website and said: "He was very determined. However, he did not bargain on the price. They invited me to a place in Şaşmaz Oto Sanayi. When we went there, they had an uncomfortable attitude. There was a large group of 3-4 people, mostly masters. They were invited for tea. They wooed. They got us talking and took the car to the back. They tried to watch. In fact, when I said why you are taking the vehicle, they said we will examine the hood and engine of the vehicle. I believed it too. I am a seller, so we have agreed on the price. I got suspicious when the vehicle disappeared for 20-25 minutes. 'Where is my vehicle? When he said, 'You have to come,' he said, 'I'm a buyer anyway, we agreed on the price. "Give me your hand," he said. We gave our hand, we couldn't save our arm. The next day they called the notary. "Okay, we'll get along in a day. I said: 'I don't need a deposit. My car arrived 20 minutes later. We said goodbye, we shook hands. A day later they called me: 'My grandmother is dead. They said, 'I can't get it, you give your right to it.'
"FARMO 'COMPLAINT"
Dogan continued:
"We later learned that they searched the original vehicles in Ankara in this way and stole the spare part called the catalyst, which can be sold at a high price by fraudulently stealing it. We have just done the valuation of my vehicle. It turns out it was stolen. They welded together two days ago and stole the catalyst. I learned that the catalyst was stolen due to the dust inside it, which is sold at a high price and can be used in other vehicles. I will file a complaint. I will complain. I have the photo, address and name of the person. There are also the masters. I also know where you changed it. I am starting all necessary actions today. "
Doğan, claiming that they were cheating one by one by listing the vehicles with the highest amount of money from high to low on a famous advertising site, "Other friends who were scammed in this way contacted me. I was contacted because dozens of people were stolen the catalyst the same way. As a group, we also met in the evaluation. "We all came here as scammed people," he said.
"MY FATHER'S VEHICLE WHO HAD CANCER"
Attorney Doğan, stressing that he felt great anger at the fraud incident, said: "I will do everything in my power because of this attitude. Because the sentimental value of my vehicle was very high. It is mine. vehicle belonging to my father who died of cancer. It was clean. I wasn't even thinking about selling it. I decided to sell but we made a mistake. I won't let this go. "
"I HAVE HEARD THAT THE PRICE OF THIS CATALYST HAS CHANGED BETWEEN LIT 100 THOUSAND AND LIT 150 THOUSAND IN HIGH-COST VEHICLES"
Atılgan Doğan warned citizens as follows:
"Citizens are smart. They should definitely meet at the expert. In fact, if necessary, they can meet with a well-known quality expert and sell there. Beware that they do not go to shops whose names are unknown. I have also heard that the price of this catalyst in high-end vehicles varies between 100 thousand lire and 150 thousand lire. I think this will continue. Let them be careful ".
"I WANT TO NOTIFY CITIZENS: IF YOU SELL THE CAR, DON'T LEAVE THE CAR"
Another person victimized by the fraud network, Salih Özgü, 66, stated that the same situation happened to victim Atılgan Doğan and expressed his complaint as follows:
"They came and looked. They said, 'Come and see the shop tomorrow.' I also went to his shop. He gave it to his master, they told him: 'Go show me a bicycle'. And I said, 'I'll ride too.' They kept me busy when they said, "No sir, let's talk." I trusted too. Then they left and it took a long time to go. After we got home. Someone else called because my vehicle was still advertised on a website. He was also exhausted. 'Your car is original, new, made in Germany. Please bring the catalyst, I'll buy a new one and I'll give you an extra 4,000 lire, "he said. I said there was no such thing. I said I'm just a salesman and I wouldn't do anything else. However, we had our doubts. The next day, we watched and talked to their weary friends. We took a picture of him and sent it to that friend. I got the answer "Sir, this has changed" from them. The original catalyst was removed, they installed an aftermarket product. The goal here is to spoil the originality of the car. I want to give a single warning to citizens: if you intend to sell a car, do not leave the car. "
"WE HAVE RECEIVED COMPLAINTS ABOUT THIS IN THE LAST TWO WEEKS"
Skills expert Ahmet Coşkun Özata, in his speech about the operation of the fraudulent network, said he reached the vehicle owners in Ankara from the advertising pages and called them at one point, saying: "They are examining the car. . After examining them, they say, "We will go to the road test with the vehicle, we have to test the car." Then they take it to their shop and steal their catalyst. We have received complaints about this in the last couple of weeks. It seems common but 6 vehicles came to me just for today. Customers want documents against this situation and we provide this document ".
"THEY TAKE THE VEHICLE TO THE ASPIRATOR, THEY HAVE PASSED IT IN A VERY SHORT TIME, RE-weld it and replace it with a sub-industry product"
Sharing knowledge that the fraud in question took place at industrial sites, in cartel-free repair shops, Özata said: "When you call the vehicle as if you are buying it in such places, when the seller and the buyer meet, 'You Sit down and have your tea. Oh, brother, don't get up, let's go to the road test of the car, let's go back ', they say, take the car in the muffler, get it cut in no time, have it welded again and replace it with a product of sub-industry.
"TODAY, A CAR CATALYST CAN BE STOLEN AND REPLACED IN 5 TO 7 MINUTES"
Regarding why scammers prefer to steal the catalyst part, Özata said:
"Among the reasons for stealing the catalyst is the palladium material it contains. These are products that usually sell for 2-3 thousand dollars. For this reason, they steal the original and replace it with aftermarket products. Among the reasons the catalyst was stolen are things that can be done extremely quickly. Today, a car's catalyst can be stolen and replaced in 5-7 minutes. When you try to buy a catalyst today, the catalyst of a 2000 model vehicle is around 8,000 lire for a used vehicle. But it can reach up to 100 thousand lire in new and high-model vehicles ".
Özata warned that citizens should never leave their vehicle when buying and selling vehicles and stressed that they should meet in safe places.
(UAV)
CLICK TO RETURN TO THE HOMEPAGE

Military helicopter crashed in Claw Lock

Private jet from Spain crashed in Latvia

Erdogan to Greece … "Don't forget Izmir, it will cost dearly"
.