✔ Once again, let's listen to the speeches of "record in export". It is imported, its foreign currency does not come from us, I guess!
✔ We have turned another economic theory upside down! Although our currency has lost a record level of value, we have allowed imports to grow faster than exports!
If you don't look at how much your spending has gone up, you will be extremely happy with every increase in your income. This is your right …
But what if your expenses increase more than your income …
In this case "My income (exports) has increased by so much" It makes sense to halay and give record-breaking speeches, either "How will I bridge this gap between income and expenditure" Do you have to worry about it?
For example, the minimum wage … Who dances halay because the minimum wage has been raised to 5 thousand 500 lire or has forgotten the increase in expenses in the drunkenness of the moment or did not know how to calculate. The minimum wage has been raised by 30 percent, but the six-month inflation to be announced today will be no less than 40 percent. So there is already a difference. Furthermore, this tariff is fixed until the end of the year and prices will continue to rise. Furthermore, the increase in the minimum wage does not even reach the hunger limit set by Türk-İş. Also, some workers get the minimum wage, but some of that money goes back to the employer later. If you don't like this app, the door is there!
But what about those who make record-breaking speeches pretending to forget about imports in the face of every increase in exports over the years?
They also don't experience the drunkenness of the moment. They do it very consciously.
Believe me, now I'm fed up!
Assuming that such a simple calculation cannot be done, every month "Exports have increased a lot, look where they come from, we are breaking record after record" I'm sick of being called! I think everyone who looks at the difference between exports and imports, sees the magnitude of the trade deficit, and calculates the ratio of exports and imports are in my situation.
"We broke an export record!"
But what about the import situation?
Damn, energy imports or something!
But look, even the Ministry of Commerce says the opposite, that is, the situation is not rosy except for energy imports. Here's what was said for June:
"The export / import ratio decreased by 13.2 points to 74.1%. Excluding energy data, the ratio of exports to imports decreased by 7.1 points to 93.4%.
Let me make a note, as the coverage ratio fell by 7.1 points to 93.4 percent, excluding energy, last year's rate was 100.4 percent, meaning exports were higher than non-imports. energetic. Now this is the success story!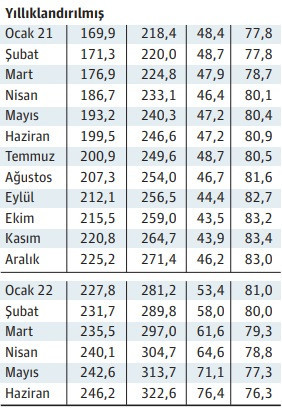 Where does the open come from?
A trade deficit of $ 51.3 billion was recorded in the first six months. Last year's deficit was just $ 21.2 billion.
We look at the data for the last ten years and there has not been a deficit of this level in six months before.
We ask once again; Is it a success story?
Above all there is the annualized trade deficit on a monthly basis, which clearly reveals where we come from and where we are going …
In October last year, the annual foreign trade deficit was $ 43.5 billion. In October, the deficit recorded in the last year …
What is the situation now, the June annual deficit; 76.3 billion dollars.
Another economic theory turned upside down!
According to economic theory, if a country's national currency depreciates, its exports rise and its imports fall.
We managed to overturn this theory too!
Our money is losing value, and how! The exchange rate has risen by around 100 percent over the past year, in other words, the TL has lost 50 percent of its value.
This situation should increase exports rather than imports, it should be, right … What a journey!
Annualized exports, which were $ 215 billion in October last year, increased to $ 246 billion in June. The increase is 14 percent.
In the same months, imports went from 259 billion to 323 billion. The increase is 25 percent!
Economists are now busy editing their business books for new editions!