class = "medianet-inline-adv">
They incorporated the technology they developed in the science competitions they entered at TEKNOFEST 4 years ago and brought them to the world market. Young engineers say Turkey will have a say in this field in the future with the climate created by the work of unmanned underwater vehicles and robotics. Five young engineers, who won first place at TEKNOFEST in 2018 with the team called Creatiny, which they founded at Karadeniz Technical University, went around the world with the company they founded in 2020, called Degz. Here, young engineers, designers and economics graduates, composed of Kaan Öztürk, Kadir Yazıcı, Ahmet Sevim, Sena Dilber and Fatih Akbulut, market the unmanned underwater vehicles called "Deringezen" and over 50 mechanical and electronic parts they made during the development of this vehicle for the world. Five young people told Hürriyet about their process from scientific competitions to commercialization as follows:
class = "medianet-inline-adv">
WE OPENED TO THE WORLD MARKET FROM TEKNOFEST
"We first participated in scientific competitions at TEKNOFEST in 2018 with the team called Creatiny, which we trained at Black Sea Technical University. The unmanned underwater vehicle we developed was the first. We were again first in 2019 and third in 2020. It was difficult to do this job, especially to procure parts from abroad. We started producing and developing every piece that we struggled with ourselves. There were so many international people and companies that needed these parts. We were fine, we decided to market it. In 2020 we founded a company called Degz. We opened up to the world market with the unmanned underwater robot called Deringezen that we produced and the electronic and mechanical parts we produced during the development of this robot. We don't just sell our underwater vehicle, we also sell technology. It is a great pride for us where we are.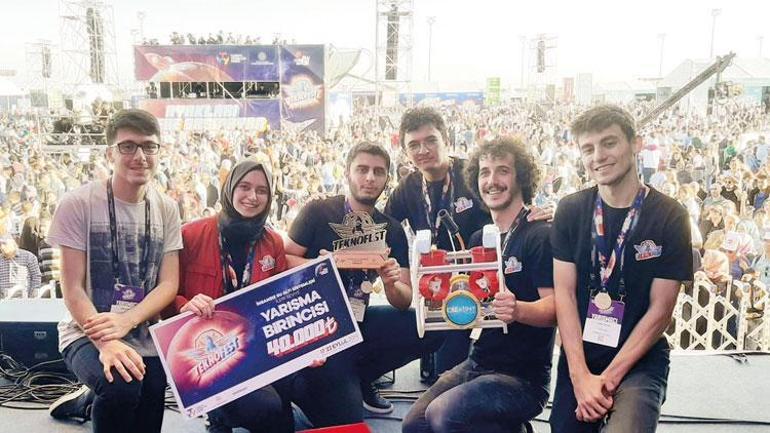 This is what is done in the world; Get ready-made sub-parts and imitate the previous ones, make similar ones. But we have developed our own unmanned underwater vehicle with its sub-parts. Our new technological underwater robot Deringezen, which includes all original designs, software and parts, has superior features compared to its similar examples in the world, after its latest developments. In these products we have patented the critical sealed chamber used in underwater vehicles, we have four other electronic parts under patent. For example, our camera is more advanced than any other model in the world with its 360 degree angle. In addition, an unlimited number of arms and devices can be connected and eliminates user errors with its advanced power safety features. "
class = "medianet-inline-adv">
"Our goal was to serve in waters where divers could not go down, and we succeeded," said the entrepreneurs and stated:
"We completed an advanced technology release last week for the work of dissatisfied divers. This version of Deringezen, which detects commands from the movement of the diver's hand and acts autonomously according to these commands, is very special in the world. Our underwater robots, which have been sold so far, are actively used in search and rescue, scientific research, channel control in dams, underwater mapping and network controls in fish farms. "
The entrepreneurs pointed out that they have started selling the high-tech secondary parts they designed and manufactured during the development of the robot to many international companies working in the robotics industry around the world: "These parts are currently in mass production. The world buys more than 50 parts from Turkey. Thanks to the competition, we have achieved something, the most important thing. In Turkey, an ecosystem has formed on unmanned underwater vehicles and robotic systems. Teams producing unmanned underwater vehicles in Turkey are developing the technology and contributing to localization by sharing their experiences.
class = "medianet-inline-adv">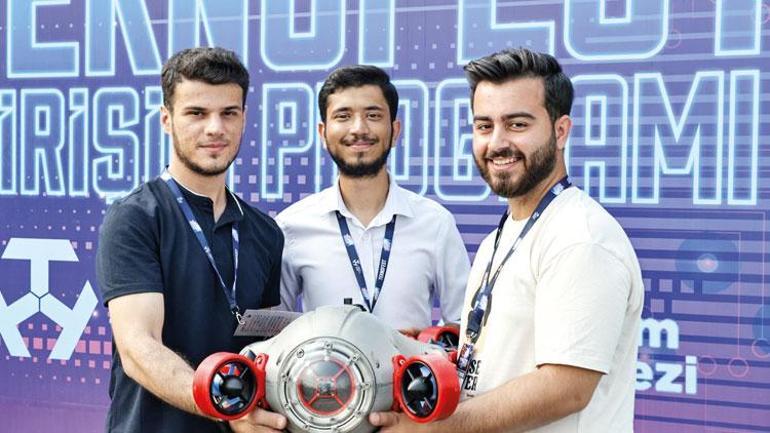 320 THOUSAND VISITORS ATTENDED
In the festival where local production comes to the fore; The aeronautical and space industry, the national and national production of unmanned war vehicles in the defense industry, helicopters and jets were exhibited. The festival, which was visited by a total of 320,000 people, 105,000 on the 1st day, 95,000 on the second day and 120,000 on the 3rd day, hosted a large crowd on the 4th day. SOLOTÜRK carried out a demonstration flight on the 4th day of TEKNOFEST Black Sea.
DOWN 600 METERS DEPTH WITH ISU
6 young engineers who made it to the finals in the scientific competitions they participated in in 2019 and in TEKNOFEST in 2020 with the Anadolu Robotics team that they formed by joining together from different universities, became a company in 2020 with the support of KOSGEB . Anadolu Robotik, with the unmanned underwater vehicle they produced, descended to a depth of 600 meters and challenged his rivals around the world. Anadolu Robotik, born with the partnership of Ahmet Musab Yıldız, Fevzi Güneş, Yahya Koca, Muhammet Yılmaz, Furkan Dursun, Abdülbaki Koçer, continues his activities in the shipyard they founded in Kayseri. They describe the HDI of the unmanned underwater vehicle they produced as follows:
class = "medianet-inline-adv">
"We failed to get a degree in science competitions at TEKNOFEST. But our work in this area has found commercial value. The ISU can go up to 600 meters deep, it is a monolithic aluminum vehicle, a vehicle in the water. It can make every movement of an aircraft in the air and maintain its position on each axis. This autonomous vehicle can lift up to 10 kilograms underwater. It can transfer images on the water with thermal and full hd cameras. Currently, our products are used in fish farms, documentary shooting and the defense industry. We are making improvements for future use in autonomous underwater resources and autonomous exploration of the seabed. On the one hand, we also carry out SIU studies on farms. We are planning to produce it for security reasons in the defense sector. Our goal is to communicate these underwater vehicles wirelessly by 2028, which is currently unavailable worldwide. And this vehicle we produce is over 70% domestic ".
.