Atahualpa Amerise @atareports
BBC news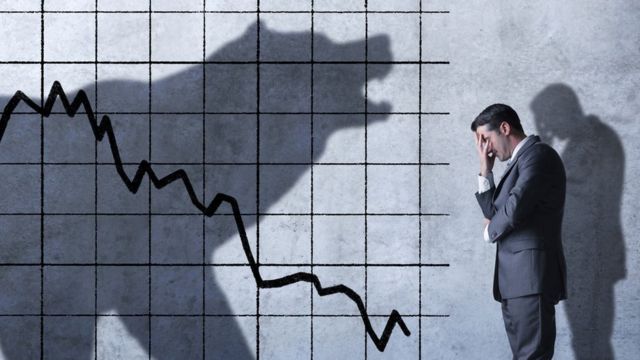 With the "bear market" rumors dominating the news lately, many may have asked the question, "What does this mean and why should we care?"
Unlike inflation and rising interest rates, which are affecting our pockets through rising prices and rising debt and mortgage repayments, most people may not be aware of the jargon. stock market because it is not actively involved in stock trading.
But those terms and their meanings can actually affect anyone.
The US Dow Jones and S&P 500 indices, which track the performance of the largest listed companies on the US stock market, fell more than 15% and 20% respectively from record levels in December, starting the week that began June 13. .
While markets are sometimes bearish for limited periods (economists call this a "correction"), many analysts say we are now in a "bear market". This occurs when stocks have lost more than 20% from the last high traded on the stock market.
In other words, by selling more shares than they bought, investors have reduced the capitalization of all kinds of giant companies, from the oil companies and carmakers that make up the market to tech giants like Apple and Meta.
What does it mean in economics?
Equity markets are an indicator of investor confidence in the economic future, right or wrong.
To decide what to do with their money, investors take a close look at data showing how healthy the economy is (from employment to inflation to interest rates).
According to Roger Farmer, a professor of economics at the University of Warwick in England, the stock market has traditionally been viewed as a reflection of the underlying health of the economy:
"From this point of view, a bear market is like a forecast of the weather. It is a forecast of an inevitable event caused by other factors."
If investors believe we are approaching an economic downturn where corporate profits are expected to decline, they may sell shares in some companies before they lose further value.
A bear market therefore often warns of a difficult period approaching where demand for products, business activity, trade and eventually employment will decline.
A bear market is also easier to initiate after a period of strong growth with very high peaks.
The current situation is this: after the first months of the pandemic, the prices of most securities, especially technology ones, have risen, reaching levels far above the previous increases at the end of 2019.
Indeed, both the Dow Jones and the S & P500 are well above their pre-pandemic highs, although they have lost some of their value in recent months.
Why is there a bear market now?
Bear markets can be triggered by a number of events such as economic stagnation, epidemics, wars and various geopolitical crises.
Aside from the lasting effects of the Covid-19 pandemic, the Russian invasion of Ukraine caused a major disruption to food and energy markets, contributing to the worst inflation in decades in many countries.
How long does it usually take?
According to a study by US investment firm Hartford Funds, the S & P500 has fallen into a bear market a total of 26 times since the 1929 crisis that led to the collapse of the American financial center Wall Street.
14 of these declines are prior to 1950, mainly due to fluctuations caused by the collapse.
More recently, bear markets have been less frequent and usually occur just before or at the beginning of periods of economic crisis or recession.
Particularly harsh were those recorded during the oil crisis of the early 1970s; The S&P 500 Index fell 48.2% between November 1973 and March 1974. In the most recent financial crisis, there was a 51.93% decline between October 2007 and November 2008.
Between February and March 2020 there was an unusual, very short and characteristic "bear market" (a decline of 34 percent in just over a month) due to the fears of many investors who withdrew en masse, believing that the pandemic Covid-19 will cause an economic collapse.
According to data from consultancy Ned Davis Research, the average duration of bear markets in the S&P 500 was 289 days, an average decline of 36%.
So how does this affect you?
If you are investing in the stock market, the answer is clear: the value of your portfolio can plummet.
But those who have nothing to do with buying and selling shares are also affected.
Bear markets are often a warning of recession; in one or more countries there is a general cycle of decline in economic activity. This is not good news for anyone.
Professor Roger Farmer also states that at times large and persistent falls in the value of shares become the cause of economic turmoil rather than a sign of it:
"[Bu durumda] A bear market is like dropping a match into a gas can. The market decline is the direct cause of the recession that followed. "
Professor Farmer says past bear markets in the United States, which have seen decreases of up to 30 percent, have led to an increase in the unemployment rate in the country.
So what is a "bull market"?
The opposite term for a bear market is "bull market"; this is a time of stock value growth and optimism.
Bull markets are often more frequent, lasting, and more profitable for investors than losses in bear markets.
The longest bull market in history lasted from 2009 to 2020 with cumulative gains of over 300%.
Buying stocks at the bottom of a bear market and selling at the peak of a bull market is considered a great trade.
The problem is that it is impossible to know for sure when we are at one of these two extremes.
Why are animal names used?
There are several theories on the use of the bull and the bear to represent opposite trends in the stock market.
Its origin is attributed to the popular animal fighting shows in England between the sixteenth and nineteenth centuries.
Two variations of this custom consisted of putting a bull or a bear against herds of dogs within an enclosure.
Bulls attack dogs with their heads pointing up from the ground, while bears paw down from an elevated position, so the pioneers of the London Stock Exchange, founded in 1801, may have included these terms in their jargon.
Another related theory is that the term "bear" originated in the bear skin market. The fur traders sold them before buying them from the trappers.
Bear skin traders began to be referred to simply as "bears" and the term was used to refer to a losing or bearish business; the opposite would be the bull, the antithesis of the bear in the aforementioned fights.
There are other theories with a simpler explanation: the bull is an animal that represents vitality, aggression and strength; The bear is known for its long hibernation.