SMALL Evolution
Copper, considered an indicator of the trend of the world economy, does not send positive signals. While copper futures prices fell 20% below the March peak, copper has technically entered a bear market. Analysts warn that the loss of strength felt in major economies, particularly China, may continue to put pressure on copper prices in the near term and that the copper's bearish rally may continue for a while.
The price of copper recorded a downward trend last week, despite the possibility of a strike in Chile, the world's largest producer. Copper futures fell to around $ 4 per pound on the Comex, the lowest since September, on fears that a global economic slowdown triggered by aggressive tightening by major central banks and COVID restrictions in China could dampen demand. Therefore, prices have technically entered a bear market, losing more than 20% since March, when they rose above $ 5.
Prices are 2.5% lower than last year
The 3-month copper price on the London Metal Exchange (LME) closed last week at $ 9,100 after plummeting from a record high of $ 10,730 in March to $ 9,000 for a while. Copper prices fell by 2.5% compared to last year.
Capital.com analyst Piero Cingari says copper has stabilized in the $ 4.15 per pound area, but prices could fall as low as $ 3.90 below the key $ 4 support line. Stating that the negative impacts of COVID in China on global growth continue, the analyst said: "If current geopolitical and economic challenges such as COVID-19 in China and the conflict in Ukraine derail globalization efforts, the prices of the copper will increase in the next few months, as trade flows decrease due to declining global consumer demand, could face further headwinds, "he says.
The monetary tightening maneuvers of central banks, particularly the Fed, are also putting negative pressure on the outlook for metals such as copper. The Fed's interest rate hikes also negatively impact speculative investments by causing the dollar index to strengthen.
"Accelerated monetary tightening, led by advanced economies, threatens to curb economic growth and trigger a possible recession, putting demand for metals at risk," warns Tom Mulqueen, analyst at Amalgamated Metal Trading.
Chinese production is on the rise
Chinese production of refined copper is on the rise. Chinese production of refined copper in May 2022 increased 4.7% yoy to 0.91 million tons, according to data from the National Bureau of Statistics. According to Reuters calculations based on official data, the average daily copper production in the May period was 29,419 tons. Over the same period, lead production increased by 3.2%, zinc by 2.4%, iron ore by 5.6% and alumina by 5.4%.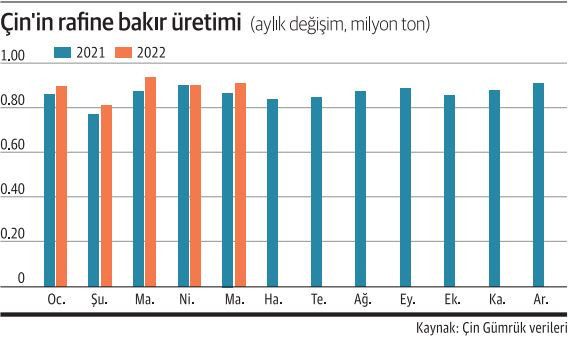 Exports of copper and South Korea are closely linked
Copper prices are also strikingly correlated with South Korean exports, one of the most open economies in the world and an indicator of the health of global trade flows. We see that the price of copper, accepted as an indicator of the health of the world economy, is active even in times when the country's exports are rising, and copper prices have eased when exports have slowed.